Andrea Johnston, MSAOM, Dipl OM, LAc | DBA Ener.Qi Holistic Acupuncture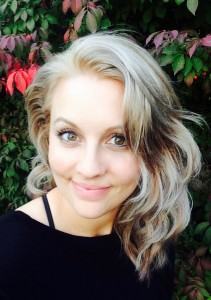 Andrea graduated Cum Laude with a Master's degree in Acupuncture & Oriental Medicine from South Baylo University in Southern California. She also received the Clinic Award for outstanding services to patients and clinic supervisors.  She is a fully licensed diplomat with the National Certification Commission for Acupuncture & Oriental Medicine and maintains licensure Kentucky and California for acupuncture & Traditional Chinese Medicine.
Andrea spent her early years in Vancouver, Canada and Lexington, Kentucky (quite the opposites!), spending most of her time making sand castles, climbing trees, and riding horses. When she was 11, she moved to the West Coast and spent the next 15 years in sunny Southern California. She graduated from the University of California, Irvine with a Bachelor's degree in Psychology & Social Behavior.  While at UCI, she served as president of The Association of University Meditators, which earned the honor of the Dalai Lama Scholarship.  The combined influences of her time at UCI and the health professionals in her family molded Andrea into pursuing holistic medicine, with the goal of building bridges between western & holistic medicine to support the progression of healthcare.
Andrea believes in treating every person with compassion, respect, and integrity with the understanding that every person is unique. She is dedicated to providing multidimensional healing that restores balance in body, mind, and spirit, while promoting synergistic harmony with our environment. She believes it is equally important to educate every person on expanding consciousness and self-awareness so they may take an active role in their healing process. Andrea enjoys working with all kinds of health conditions including mental and emotional conditions, allergies, hormonal imbalances, orthopedic injuries, and digestive problems. She also is particularly interested in women's health and has extensive experience with menstrual imbalances, infertility, menopause, endometriosis, and PCOS.