About Hardin Field Ⅴ, L.Ac., MSTOM | DBA Stream Point Acupuncture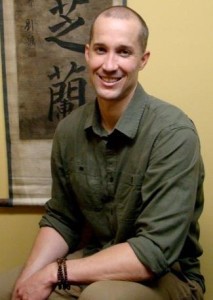 Hardin graduated from the Pacific College of Oriental Medicine in San Diego, California. In addition to being licensed by the National Certification Commission for Acupuncture and Oriental Medicine (NCCAOM), he holds licenses and certification in both the Kentucky and California State Acupuncture boards.
Hardin was born and raised in Versailles, KY. Growing up and working on a farm instilled a great work ethic, love for nature and a respect for the land that he grew up on. Hardin also had a strong love for sports, fitness and the health of the human body. All of these combined with a desire to help others achieve the best health possible, led to his career path and journey.
Hardin graduated from the University of Kentucky with a B.A. degree in Kinesiology. He worked as a personal trainer in Lexington for nine years. A desire to be able to help clients on a deeper, systemic level, lead him to enroll in and continue his education at Pacific College of Oriental Medicine (P.C.O.M.) P.C.O.M. is a four-year, Masters Degree program with over 3,400 hours of study in Acupuncture, Chinese Herbal Medicine, and western biomedicine and sciences.
Hardin is also a graduate of a specialized, sports medicine acupuncture certification program with the highly regarded and leading Sports Medicine Acupuncture teacher and practitioner, Matt Callision.