Schedule Your appointment with Koichiro today!
Koichiro Nakanishi, LMT  | DBA: Touch of Art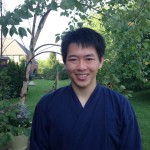 Originally, Koichiro's grandmother taught him a simple massage when he was very young. Between his brother and sisters, they started to massage each other, but Koichiro was very ticklish at the time, so he preferred "giving" massage more than "receiving." He massaged his family at home or on a vacation, his friends when they were tired, and his teammates when he was in the track and field team.
Koichiro's parents moved him and his family to the United States, which is where he attended Middle and High school. After graduation, he decided to move back to Japan.
Koichiro started his career as a massage therapist in Kanagawa, Japan. He attended the Manual Therapist Academy in Japan, and studied over 600 hours. After massaging over 1000 clients, he decided he wanted to study more. This decision led him to come back to United States. He completed the 720 hours program at Lexington Healing Arts Academy, where he gained more knowledge of human body and massage.
Koichiro's unique style of massage involves Shiatsu, Trigger Point therapy, and Stretching. You can enjoy the "good hurt" push, with "relaxing relief" of the body and mind. Even more unique, as a client, you stay fully clothed for all of his sessions. Always come in comfortable clothes.